Being a salesperson can be challenging, especially now that things are slowly getting back to normal in 2021. That's why we have gathered some of the best sales memes to provide some comic relief to the misery that is selling in the sales industry today. Here are the best sales memes only salespeople can understand, alongside some tips on how to break the cycle of bad months and begin selling again.
1 We All Got To Start Somewhere!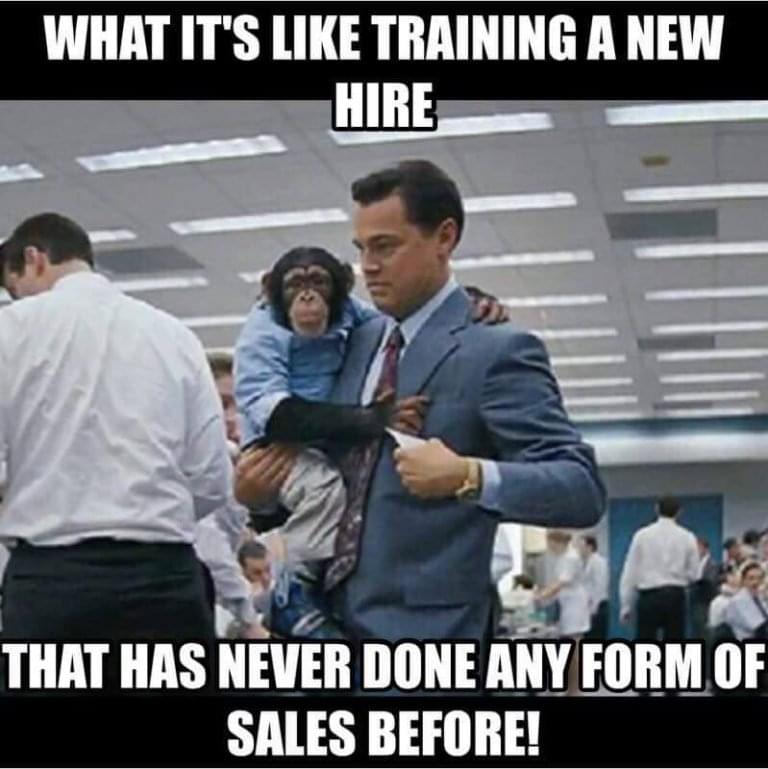 Veterans in the sales industry can relate to this sales meme more than they'd wish. Training a team of fresh faces isn't always an easy task, especially for those who haven't done or made any sales before. But we all have to start somewhere! For managers and other executives, this is a sign for you to keep moving forward and help your team succeed.
2 Not, Ready to Buy? I'll Wait
3 The Cheap Competitor
Right now may not be the best time for your prospects to buy your products or services due to the pandemic. If this is the case, the best way to treat potential customers affected by the crisis is to wait for a bit to settle their issues. Then, do a follow-up with them. You'll be able to achieve success soon! With patience, any of your deals will be a success, even if it happens down the road.
When prospects go to the competitor because their offer is 0.25 cents cheaper than yours can be a real struggle, but it's normal for customers to gravitate towards the lowest prices, especially during a global crisis. However, when you're negotiating a price and competitors underbid your offer, there are some strategies you can use to save your sales deal.
Firstly, you can try to get your prospective customer to set a price aside for a moment and focus on the actual value behind the deal. Ask them if they like the other product better than yours, or are they just attracted to the lower price tag that isn't worth much? Then, align yourself to your prospect's goals and needs.
But if they do need something cheaper, don't get lured into a price with a competitor and help your prospect get what they need, even if that's not your product. With this, they may realize that you're the kind of partner their company needs.
4 A Sale That Seems Too Good To Be True?
With the amount of bad news surrounding the sales industry, any deal or anything that may seem easy is understandably thrown under suspicion automatically. As a sales rep, it's normal to have second thoughts when you're trying to land a deal with a hot new lead assigned to you. However, remember that doubts will get you nowhere. So if you manage to get a decent deal, now's the time for action!
5. If Per My Last Email Had a Look
Whether you're a sales manager or sales representative, most find it harder to receive a reply to emails due to the crisis. So if you're having a hard time getting a response to your email(s), you're not alone. However, don't give up! You can increase your chance of getting a response by sending the right follow-up emails tailored to each prospect. When you keep this in mind, you'll be getting responses soon.
6. After the Morning Zoom Meeting
Because of the pandemic, zoom meetings have taken over the sales industry. So while your morning sales huddle may seem like a massive motivational boost, you may find it harder to keep the momentum going throughout the day. Dealing with the current crisis isn't easy for anyone, but there are several things you can do to stay motivated, such as:
Combat stress
Practice mindfulness
Manage time and habits
Expect disruptions
If you're a sales manager leading these morning sales huddles, help your team of sales reps by giving a motivational speech or conducting an open forum and ask them about what they look forward to on the workday. Although it won't always be a hit, it's better to converse with them when you have free time.
7. Tiny Q2 Checks
If this sales meme is close to your heart, you might be having a hard time right now. However, if you're bombarded by smaller commissions, go back to your resources – your pipeline. Your resources aren't probably looking as 'full' and happy as they did a month or two ago. But keep in mind that no matter how difficult things get, never blame your pipeline or leads for a rough quarter.
Despite the global crisis, many businesses are still selling their products and services, and if they can do it, your company can too. So if you see your Q2 checks narrowing down, now's the time to explore your creativity and find ways to refill your dry sales pipeline. It's free and efficient! You can check out posts on professional websites like LinkedIn to get some inspiration.
8. You Accepted My LinkedIn Request. Are We Taking it to the Next Level?
When someone accepts your LinkedIn request, you may assume that you've become close – or even close. However, that's probably not the case. But it's always fun to get excited about gaining new LinkedIn connections, whether it's from a person in your business or another industry. And besides forming new relationships, the platform can be a powerful tool for sales outreach and marketing.
Then, you can take the relationship to the next level by keeping your pitch short, sweet, and memorable. Plus, ask a question that you think your lead targets may like. After all, who knows? You may end up finding yourself a new friend. So if you don't have a LinkedIn account, go to the website, create a profile, and become a member! It's 100% free.
9. I'm Still Worthy
When you finally succeed in closing a deal after weeks, you may think, 'I'm still worthy!' And, yes, you are! Although the problematic situation due to the pandemic every day may have knocked us down, all successful sales reps know that you can only win if you get back up and continue selling. After all, during and after the pandemic, you could close deals with your prospects.
10. How Long it Really Takes to Make Decisions
Asking prospects about how long it will take them to make a decision is always a struggle. Some leads seem like they can't nail a decision timeframe, with some taking a day – while others a month or more. If this is the case for you, the best way to push them toward a purchase decision is to hyper-customize your sales pitch to their particular needs. If you can convince your targets of the value, you can convince them to buy your products or services.
11. How Many Customers Show Up When You Try to Eat Lunch
Although this sales meme may seem a bit over the top, it isn't too far-fetched. However, if you ever had your company phone ringing like crazy while trying to grab a bite of your lunch, then you'll likely relate to this meme. That's why even if you get one call after the other, resist answering the phone while eating. One way to deal with this is by using the right CRM. After all, using the right tools can help your productivity, keeping you on top of all the calls you must return.
With a CRM tool, you can beat the crazy lunch hour – and enjoy your food! For instance, in Close, sales reps have personal inboxes. You'll see the tasks assigned for you every day, alongside any missed call, voicemail, or email you need to check with a CRM in place.
12. New Leads vs. Old Prospects
A classic subject for sales humor is new leads vs. old prospects. Although new leads are something to get excited about, if you're spending all of your time on them, you may end up neglecting the old prospects in your sales pipeline. After all, there's no such thing as old hot leads. That's because while some are hot, you must stay in contact with them until you get a purchase decision for your products or services.
So, balance your time between new leads and old prospects. With this, you'll have a balanced sales pipeline and a continuous flow of new deals.
13. Does Your Customer Qualify?
Although having eager lead targets is always good, overdoing it could lead many sales reps to doubt if they'll qualify. No salesperson wants to deal with prospects for a long time to find out they don't qualify for their offer, but no one also wants to let go of a lead or prospect too soon. If that's the case, what you can do is ask the right qualifying questions to get a clear view and understanding of your prospect's situation – helping you avoid this scenario.
14. Baloo the Gatekeeper
If you can relate to this sales meme, it seems like the gatekeeper is blocking you from your ultimate goal – getting to the decision-maker. The best way to get past this 'gatekeeper' is to stop thinking of them as blockers and begin seeing them as allies. To get past them, you'll need to provide value to them, form trust, and manage objections. With this, you'll be able to use their influence and position in your favor in no time.
15. When Customers Think The Rate is Too High
Among the sales memes, a recurring theme is that of customers and their complaints about the prices. Sometimes, leads object to the price you offered since they don't have a budget for it. If this is the case, don't waver. After all, they likely don't understand the value of your product or services. Meanwhile, at other times, they're using a price objection to hide a different complaint.
It's your job as a sales rep to figure out what a customer's price objection is and what it means, and you can do this by asking the right questions. So if the prospect worries about the price since they may not have the funds for it, then help them by teaching them the benefits and the return of investment (ROI) of your product and services. Doing this lets them see how much it would cost them if they don't partner up with your business.
16. When You're Waiting For a Customer To Make a Decision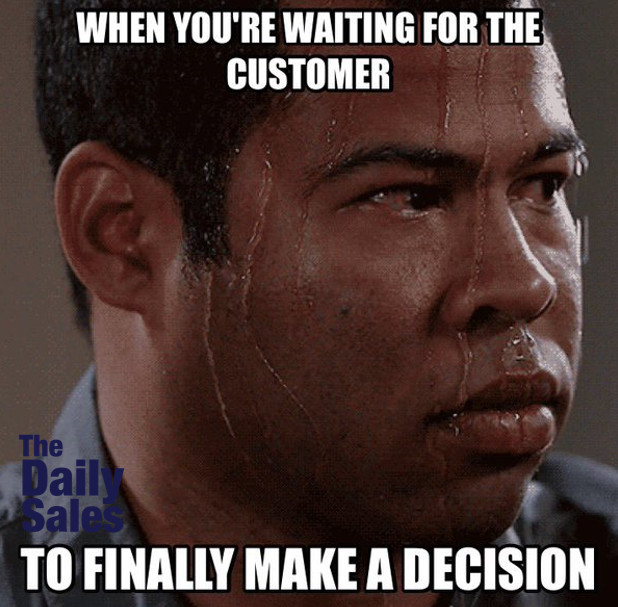 Most times in the sales industry, you'll need to play the waiting game. And whether you're a representative or a manager, it can be a stressful time. So if you're waiting for a prospect to make a decision and you're stressing out about your sales numbers going down, take a deep breath, relax – and check out some sales memes!
17. When You've Become Good at Overcoming Objections Like a Pro
In sales, objections are common, and after some time, you'll get used to it. And during this crisis, many sales reps have likely come across the same objections again – and again. For this reason, many have become a master at overcoming objections of price or bad timing so if you can relate to this sales meme, congratulations on overcoming these difficulties! You can avoid objections by looking at a person's data, whether in their social media profiles or business account on LinkedIn. Doing this helps you understand your prospect more – and decrease your chances of objection.
It won't always be a hit. However, whether it takes you a week or a whole month, move forward with your business, and you should able to close a deal in no time!
18 The Proposal that Flopped
When a prospect says they didn't like your proposal, most sales reps would probably think, 'It'd be a lot cooler if you did.' Hence this sales meme. Either that lead is crazy, or your proposal wasn't up to their standards. If it was the latter, you need to create a proposal that grabs attention – and for this, you need to make it pop! Even if you're not a designer, creating a proposal that's eye-catching and well-designed isn't as difficult as you may think.
It can have a massive impact on how your leads view your proposal. Also, being creative by enabling digital payments and signatures can help you grab one sale after the other. So if you're starting to notice none of your target prospects accept your proposals, it's a sign to do better things and create better sales pitches for success!
19. Who Said Working in Sales Was a Stressful Job?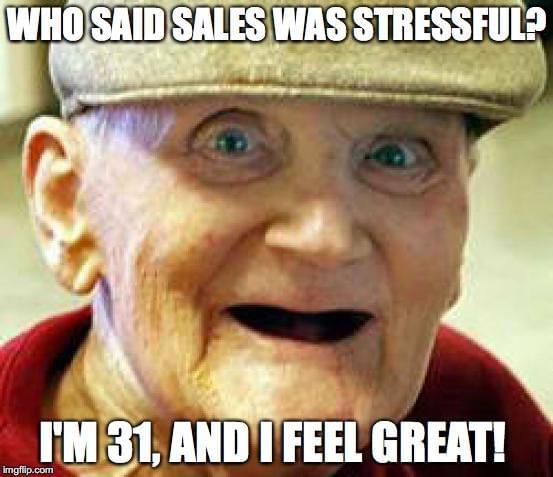 Who said sales was stressful work? I'm 31, and I look fantastic! But do you? Working in sales can be challenging, especially when dealing with one person to another every day. However, don't let this get you down. After all, looking at a couple of sales memes posts a day can go a long way! If you're starting to lose your motivation at work, this is a sign for you to keep going and don't give up.
20. When Your Leads Are Beyond Cold
Unlike sales memes, dealing with cold leads isn't fun. No sales rep or team wants to waste their time on a customer that isn't going to buy or pay for their services, so what's the best thing to do to work with cold prospects productively? You can begin by changing your email template to turn them into warm leads on the road to making a purchasing decision. Also, by improving your qualifying skills, you'll be able to work smarter and prioritize leads that qualify. This way, you'll be able to see which prospects are less eager and spend less time on those who are a bad fit.
21. Giving Everyone Who Calls the Same Treatment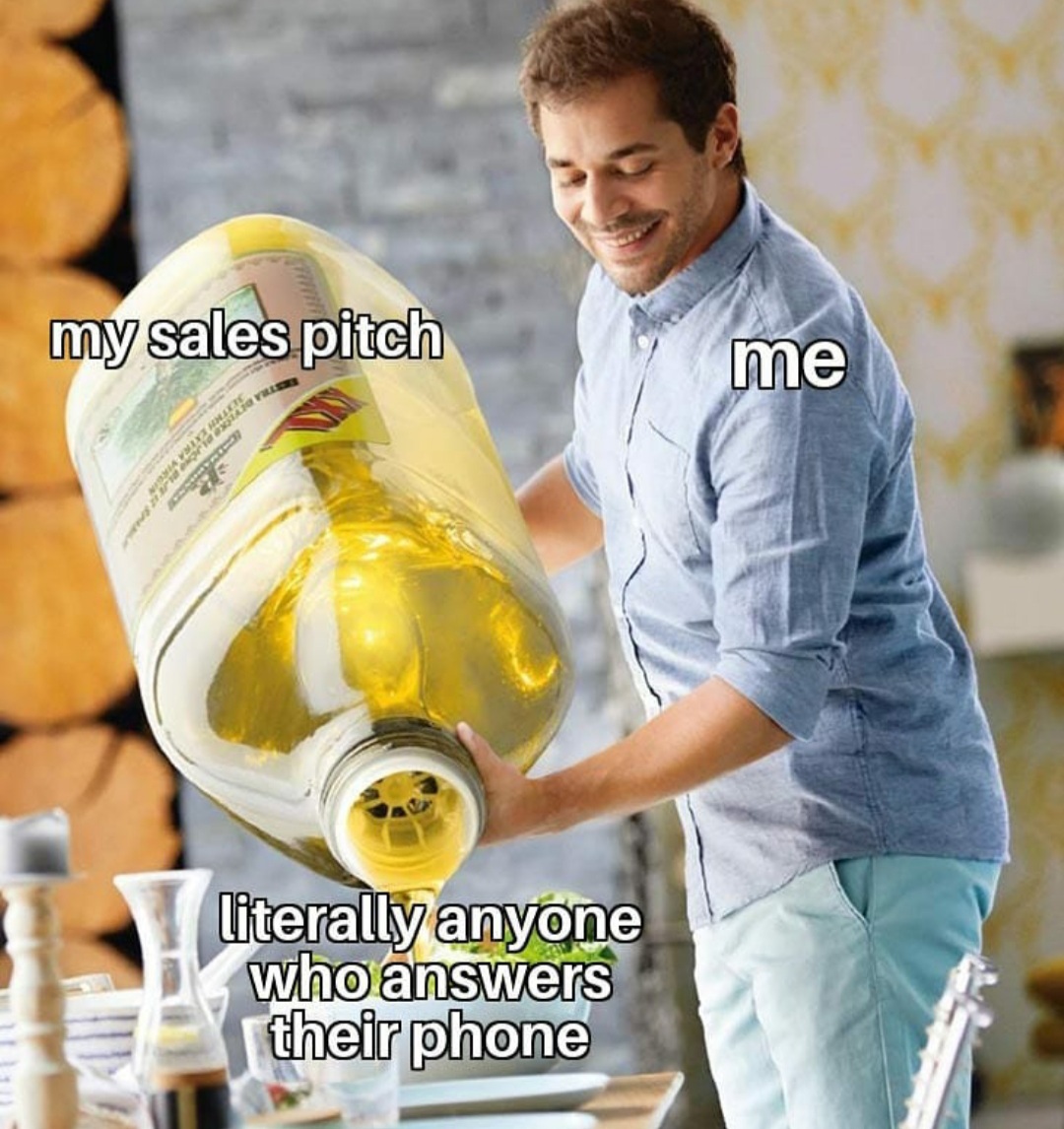 Salespeople are naturally talented in talking. However, most do that to everyone who picks up their calls. That's why it feels like you're giving a sales pitch every time. Of course, other than the time you're handling customer care.
22. When You Need to Put on Your 'Work Laugh.'
When a customer tells a lame joke, but you need to put on your 'work laugh' to hit the sales bonus is one of the best sales memes many can understand. No amount of marketing training can help you with this, so try to practice when you can! After all, sometimes, you need to make sacrifices to get a sale, and sometimes, that sacrifice is your humor. With this, you'll be able to achieve success with your target leads more often.
23. If You're Really Busy, How Did You Answer The Phone?
Of all the sales memes, the ones with the phone calls always seem to resonate with salespeople. So if it looks like you're always making a call at an inappropriate time, a customer may just be using this as an excuse not to talk to you. However, if the prospect is genuinely busy, you may need to try a bit harder to time your sales calls. The best way to do this is by understanding your leads better.
24. Hello? Are You Still Interested?
To see if your lead is still interested and isn't avoiding you, check their regular work schedule. Is your customer busier at particular times of the week or month? Are they working from home or at a business location? Either way, the better you understand your customer and their day-to-day lives, it'll be easier to contact them at a time that is right for them.
25. Ask Me To Make One More Cold Call, I Dare You
Improve your sales prospecting skills to ensure you're getting a good lead and aren't wasting time. When you learn how to prospect and qualify your lead targets successfully, and you'll avoid being affected by doubt. You'll be able to move forward with a clear action plan in mind.
26. I Don't Know Who You Are, But I Will Find You In LinkedIn
According to surveys, over 65% of B2B businesses say that they've acquired new prospects and customers from the business platform. To make the most out of LinkedIn, learn how to use it well. If you take a good look at a prospect's account, you may come across a common ground or connection you can use during your sales introduction.
27. When You Miss Out On a Lead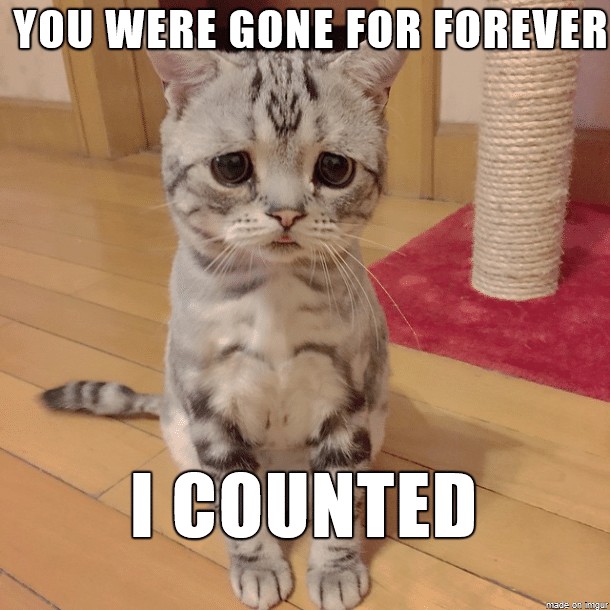 One of the most detrimental mistakes a sales rep can make is assuming that their leads don't want to buy because of the current situation. Don't miss out on a lead, and keep working, selling, and you'll see results in no time!
28. Hello? Is It Leads You're Looking For?
Here are some B2B qualifying questions to help you determine if a lead will qualify for your offer:
What is their budget?
How are purchase decisions made at their company?
Are they interested in or fed up with the competition?
What are their needs?
Do they fit your ideal customer profile?
Don't forget to have your target prospects answer these questions before you close a deal to remove any doubts about whether or not they qualify – helping you continue selling.
29. Dealing With Failed Sales
Check the data behind your failures and take the time to understand why they happened in the first place. Is it because you didn't call your prospects amid the crisis? Or were you trying to achieve an unrealistic goal? Once you've understood the root cause of the issues, you can take steps to resolve the issue.
30. Sales Humor Sucking You In
When you're looking at sales memes at work instead of making calls, expect your manager to give you the stink-eye. However, if they haven't caught you looking at the best sales memes with your team, that's not an excuse to keep looking! Now, after looking at some fun sales memes, it's time to get back to work – and face your day-to-day challenges head-on!
We all know that being a sales rep is a challenging job. However, only a salesperson knows how tough it is. That's why sometimes, having a good laugh can help out a lot – and memes are the way to go! As a salesperson, you can likely relate to the sales memes mentioned, and laughing about our problems is better than crying. However, remember that even though times can be challenging, you're still selling, businesses are running, and people need your products. So, take a break once in a while, have a good laugh with some hilarious sales memes!